---
Arran's only B.H.S. & T.R.S.S. approved centre.
Please book in advance to avoid disappointment
Maximum weight - 12.5 stone, 175 lbs, 79 kgms
( Dont worry if you're not sure... we have scales in the tack room! )
Age limit for treks - 5 years
Pony ride in school 4 years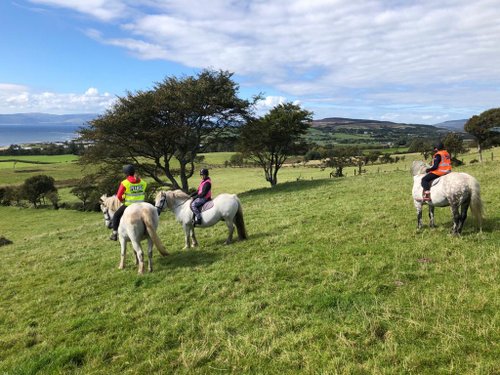 ---
Bookings can be made via email / web contact form.



Contact Us



We don't take bookings via Faceboook or text message!


---
1 Hour Trek............................ £40
1 Hour Hack ........................... £45
2 Hour Hack............................ £75
Half Hour Private Lesson............... £30
One Hour Private Lesson................ £45
Pony Ride in School ( 4 year olds ).... £10


---
We Offer :
Hacking & Trekking ( horse riding / pony trekking )
for novices and experienced riders.
The one hour trek is a basic walk with the possibility of a trot if everyone is competent to do so. (Lead rein for beginners).
The two hour hacks are for the more experienced
rider who can control their horse in walk, trot and canter.
Carefully chosen routes across private farm tracks, hills, sandy beaches, etc., on well cared for horses and ponies to suit your ability.
Private and Group lessons by arrangement. Qualified Staff.
Livery :
Why not bring your horse or pony on holiday with you and
give them a change of scenery? - We have super hacking,
excellent stabling and facilities with 24 hour supervision.
---
Member of :
British Horse society (B.H.S.) Approved
The Trekking & Riding Society of Scotland (T.R.S.S.)
Approved Ayrshire & Arran Tourist Board
---
Facilities :
Harlow Stables, Tack Room, Staff Room, Feed Store and Straw Barn, Toilet and facilities for disabled persons, Floodlit Outdoor School
20m x 40m, Show Jumps and Car park.
Horses :
Our Horses and Ponies vary in shape and size as I am sure you do! Our smallest is a Welsh Cross standing 10.2hh. We have native ponies, T.B. and Hunter types up to 16.3hh. They are all happy individuals and very much part of the family.
What to Wear :
We can provide riding hats to the B.S.I. standard required, however we advise all clients to wear comfortable, appropriate clothing and footwear must have a flat sole and small heel. Safety is paramount and
Dawn is a current holder of the H.&S.E. First Aid Certificate.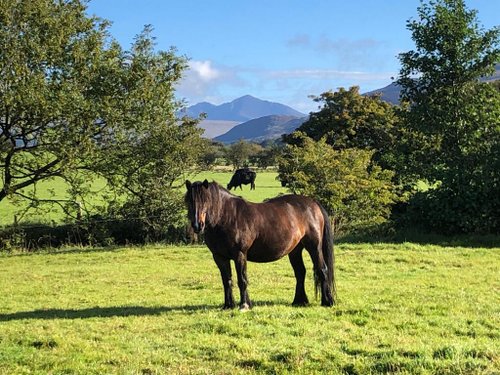 Bus stop within minutes of stables.
---